Traffi Carbon Neutral Biodegradable Nitrile Disposable Gloves (Box of 100) - TD01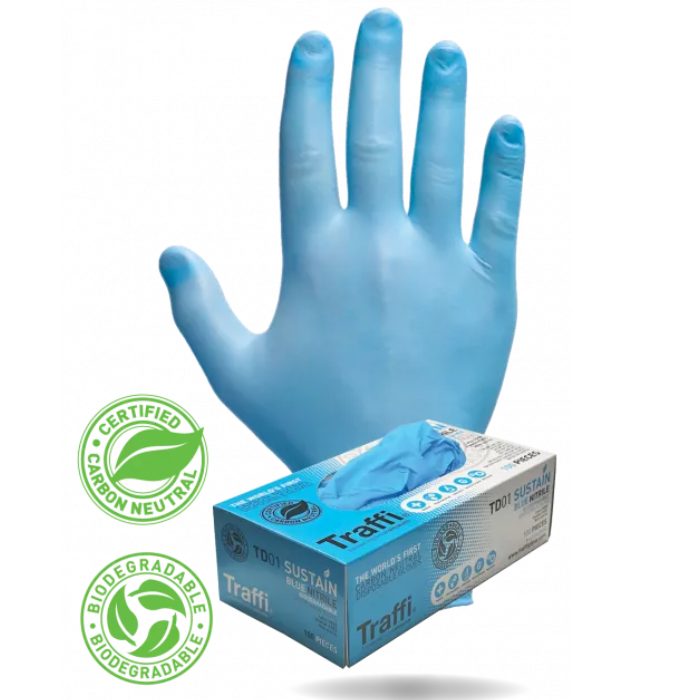 Traffi Carbon Neutral Biodegradable Nitrile Disposable Gloves (Box of 100) - TD01
SKU: W32903

Brand: Traffi

From: £5.90 ex. VAT £7.08 inc. VAT

Stock Level: 9
Choose Option:
In Stock

Click & Collect

Next Day Delivery
If ordered before 10:30am
Product Details
The TD01 is part of the world's first carbon neutral disposable glove range.
It's made from 100% premium quality nitrile with a 3.5g high stretch construction. It's powder free, food approved and has a textured finish for improved grip. It's also biodegradable, meaning you can dispose of uncontaminated gloves in the general waste stream with minimal planetary impact, and biodegrades by 65.2% in 407 days!
Ideal for:
Healthcare
Construction & utility
Automotive
Food Manufacturing & preparation
Janitorial & cleaning
Facilities maintenance
Standards:
Tested to European Standards EN455: Medical Gloves for Single Use Parts 1,2,3&4
Product Food Approved to EN1186
EU Type Examination carried out by SATRA
Tested to European Standards EN 420:2003+A1:2009 & EN ISO 374-1:2016+A1:2018 & EN ISO 374-5:2016