Traffi SustainBiodegradable & Carbon Neutral Disposable Gloves (Box of 100) - TD02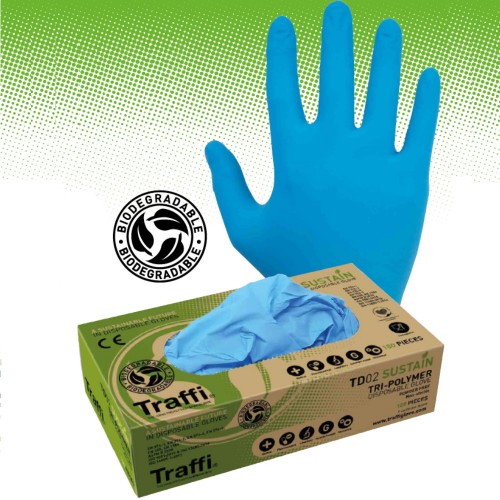 Traffi SustainBiodegradable & Carbon Neutral Disposable Gloves (Box of 100) - TD02
SKU: W31954

Brand: Traffi

From: £7.92 ex. VAT £9.50 inc. VAT

Stock Level: 27
Choose Option:
In Stock

Click & Collect

Next Day Delivery
If ordered before 10:30am
Product Details
Introducing the world's first Carbon Neutral disposable glove - a sustainable alternative to traditional gloves. While regular nitrile gloves can take more than a century to break down in landfills, the TD02 variant biodegrades significantly faster, with an impressive 82% decomposition achieved in just 90 days.
Please see the Downloads section to read the Carbon Neutral certificate and Life Cycle Analysis.
TD02 Sustain is a tri-polymer disposable glove that contains a smaller proportion of nitrile, resulting in significantly lower petrochemical emissions compared to regular nitrile gloves. Additionally, 85% less energy is used to process natural rubber than synthetic rubber, which is used in nitrile gloves.
World's first Carbon Neutral disposable glove
25% increase in stretch and comfort, reducing hand fatigue
Cooler to the skin, thanks to new 3TP technology
More comfortable and closer fit than standard nitrile, even after repeated stretching
Food approved
Skin-friendly and dermatologically approved
Made with a higher proportion of locally-sourced, sustainably produced raw materials in Sri Lanka, resulting in stable pricing
Lower carbon footprint during production.